Hygiene and Sanitation
Publication Data :
Last updated:2019-01-26
Count Views:1265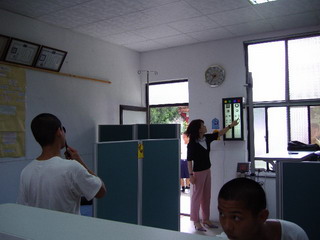 ---
>The health section of the Taoyuan reform school is in charge of formulation of health plans, prevention of communicable diseases, health care training, and physical checkup for students, It is also in charge of the filling of prescriptions and storage of medicines, environment sanitation,screening of drug abuse,and health education.
>Physical Examination
1.Monthly physical examination is applied to new students. Other then regular items , blood test,chest X-ray check, and urine sample for drug check are also included for making their medical exam records.
2.A regular physical examination is held for students every 3 months , including height,weight eye sight, blood presure, and breathing capacity to monitor students physical condition during their stay.
---
>Management of Environment Hygiene:
1.Daily clearing of classroom , dormitory, and kitchen is maintain environment hygiene and health.
2.Regular disinfection for one or two times every month to eliminate viruses and prevent contagioue disease.
>Disease prevention
1.Vaccination: Flu and other vaccines administered according to schedule to prevent epidemics.
2.Screening for TB and other epidemics:The is done a year in conjunction with health bureau and for Disease Control.If a suspect case is detected, the patient is immediatedly for further examination.
---
---