Management of food
Publication Date :
Last updated:2020-02-11
View count:1152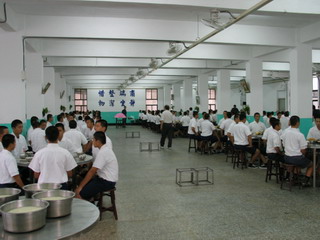 ---
>Each students has N.T.2400. for food every month, for breakfast they have rice porridge, steamed bread, soy milk, and small dish of supplementary food, for lunch and supper there three dishes and a soup,  The lunch and dinner are made as rich and as palatable as possible.
>When cold spell hits Taiwan in winter, the school prepareds ginger soup for students to resist the cold, and ice drinks are offered in summer to beat the heat.
>Samples of the dishes are displayed in a conspicuous place at the family reception room, on major festivals.
>More dishes are supplied for three days on the Chinese New Year and two days each for the Dragon Boat Festival and Mid-Autumn Festival.
>Sanitation of the cooking place is put under independent management to ensure the health of the students, fly screen and ventilation facilities are installed, all worker in the kitchen are required to wear stipulated uniform.

>Representatives for students meet once a month to discussion on meal improvements, The desicion are quickly reflected in the manus of the next day.
>Automatic equipment for cooking
In keeping with independent management in the kitchen, automatic machines, including those for making steamed bread, for making soy milk, for making noodles, for making ice, for deep-frying, and a highly efficient cold storage were added. These machines have replaced much manpower and we can pay more attention to safety as well as sanitation.
---