Dun Pin High School Implementation Program of Phase I of Ecology Education Park
Publication Date :
Last updated:2021-08-07
View count:1376
---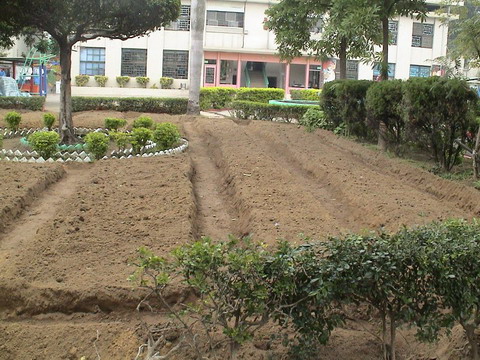 ---
Dun Pin High School
Implementation Program of Phase I of Ecology Education Park
 I. Background
The Mother Nature has been in constant destruction due to global
warming.  Relation between men and nature must be rebuilt.  To reduce
hazardous substances and protect our beautiful homeland, the school has
ecology education park to teach students principles of to harvest before
you gain through organic sweet grasses, flowers, vegetables and fruits. 
Students will learn to coexist peacefully with Mother Nature and all
faculty members will understand meaning of life education.
II. Foundation
   Fajiaojuezhi #0980903198 on 19 November 2009 by Ministry of Justice
   and promotion of Correction Institution Life Education Program
  III. Goals
         Students at the school study organic farming skills and engage in
         agriculture training to remove the bad habits of being indolent and have
         working attitude of diligence.  This will help them better adapt to the
         society in further study or employment after leaving the school.
         After soil preparation, soil and water quality inspection, we understand
         how pollutions are from to meet basic elements of planting—sunshine,
         water and soil.  We have organic fertilization and diatomite, remove
         insects with enzyme and plant various sweet grasses, vegetables, fruits and
         flowers.  Ripe organic vegetables and fruits will be foods for our students. 
         Sweet grasses can be made into tea or fragrance in baking class or make
         office and classrooms a better place.
     We train our students to treasure the hometown and pay attention to
        environmental protection to experience the way of you get consequences
        from what you do.  Life does not stop.  Students shall encourage
        themselves regardless of earlier mistakes.  Once they leave the school, they
        can be confident and do good deeds to the society.
         IV. Target
 Students at Xiao 1st and Xiao 2nd classes
V. Period
 1 January through 31 December 2010
VI. Scope
 Flower beds of Xiao 1st and Xiao 2nd classes in Phase I, total
at 498 square meters 
VII. Implementation steps
 The major purpose of organic planting is to return to nature and restore
the lands to the original status.  The preparation includes soil and water
source analysis before planting.
A. Soil analysis
We had soil samples on 14 August from the two classes and sent to Taoyuan District Agricultural Research and Extension Station, COA, Executive for inspection.  The results on 4 September show that content of lead and zinc is too high and organic planting is not possible (Annex I for inspection report).
 B. Water source analysis
 We sent underground water sample to Environment Protection Bureau, Taoyuan County Government on 23 September 2009.  Inspection report on 6 October 2009 shows the water was normal (inspection report in Annex II).
     C. Soil improvement program
          We bought qualified soil after inspection for vegetables, sweet grasses, fruits and flowers and expected to cover current planting land with 20 cm thick (around 75 cubic meters) qualify soil.
 We arranged soil, added organic substances, planned water supply and
drainage facilities, and planted organic vegetables and plants in season, with
good adaptation and fighting against blight.
   VIII. Eco
logy education plan
A. Teachers:
 (1) Chief Liu Hongbin, Department of Farm Management, National
 Tao-yuan Agricultural & Industrial Vocational High School
(2) Dr. Jiang Shuming, President of Town South Farm in Tongxiao Town, Miaoli
 County (concurring practice teacher at Department of Agronomy, NTU,
 Standing Director, Taiwan Organic Production Association) to teach prevention
 of plant blight
  B. Class hours and location: weekly classes from 13:30 to 16:30 in which students
      were taught practice and organic planting.
  C. Hourly charge: (1) Mr. Liu Hongbin taught 4 hours per class each week from
      January 2009 to December 2010.  Number of total hours is 416 (52 weeks x 8
       classes/week).  Total fees a year were NTD166,400.
       (2) Dr. Jiang Shuming taught 4 hours per class each month from January to
       December 2009.  Number of total hours is 96 (12 months x 8 classes/month). 
       Total fees a year were NTD38,400.
 IX. Course details
   1. Cultivator driving skills
2. Skills to plant organic leaf plants
3. Organic compost and organic plant blight prevention
To sample soil for analysis in order to understand soil physical property and    fertilizer power as foundation of soil fertilizer management, appropriate crop rotation, indirect green fertilizers or appropriate fallowing to maintain and enhance land power
 5. Blight prevention management
   Crop rotation and other cultivation, physical prevention, biological prevention,
   plant conflict or co-prospering plants and natural material prevention in
   general prevention to prevent from blight
   XI. Expected effects
Annual output is 500 kg of vegetables and fruits for students at the school.
Students understood the reason of to harvest before to gain and experience
 and meaning of life education.
Sweet grasses can be made into sweet grass tea or as fragrance in baking
classes to combine our organic planting and baking skill training.
Students involved in agriculture training will removed bad habits of laziness
and trained their habit of hard working to respect career after they left
school.